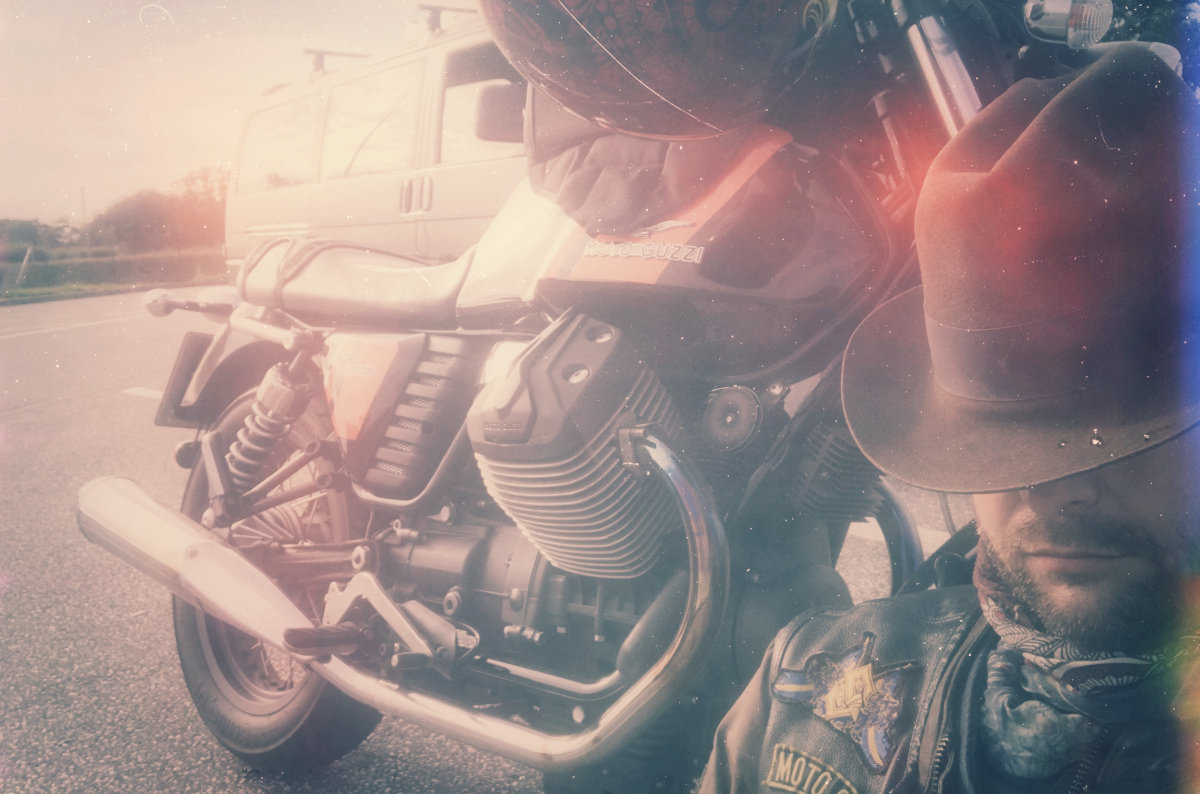 What happens when you ride a Moto Guzzi hard for 70,000 kilometres? The gearbox disintegrates to dust.
My current life circumstances are a bit more of a rollercoaster than I'd prefer, to be honest. Aside from a move across half of the country, which always brings a lot of things to plan for and unforeseen circumstances to boot, work has also been particularly unpredictable as of late. Since I'm working quite a lot, it would be really nice to have a bit of a holiday to look forward to. But that is also proving to be a bit of a headache this year.
Last autumn, dad and me had begun plans for a motorbike tour through Norway this summer. We booked everything (ferries and accommodations) early this year and thought we were ready to go for the trip in late August. And then the coronavirus situation hit. So the trip was in jeopardy for quite a long time. A few weeks ago, we then received the happy news that we are now allowed to travel through Denmark and cross into Norway again, so the trip is back on. This is our planned itinerary for the tour:
Since the opening of the borders meant the trip was going to happen as planned, I decided to get into the habit of riding for longer periods of time again. Due to my work load I haven't been able to ride much this year so far. So the other week I rode up through Schleswig-Holstein for a day. On the way back, disaster struck. My motorcycle started to make very worrying sounds and when I finally made it home, I noticed she was leaking oil as well. Long story short: The gearbox is completely shot.
Adventures Have Been Had
I ride a Moto Guzzi V7 Special that was built in December of 2013. Her name is Rocinante, Roci for short. I've owned the bike since July of 2014. In that time, I've ridden just over 70,000 kilometres on her. On previous tours, dad and me travelled the Pyrenees, the north of Scotland and the Alps twice. I've also travelled to central Sweden on her.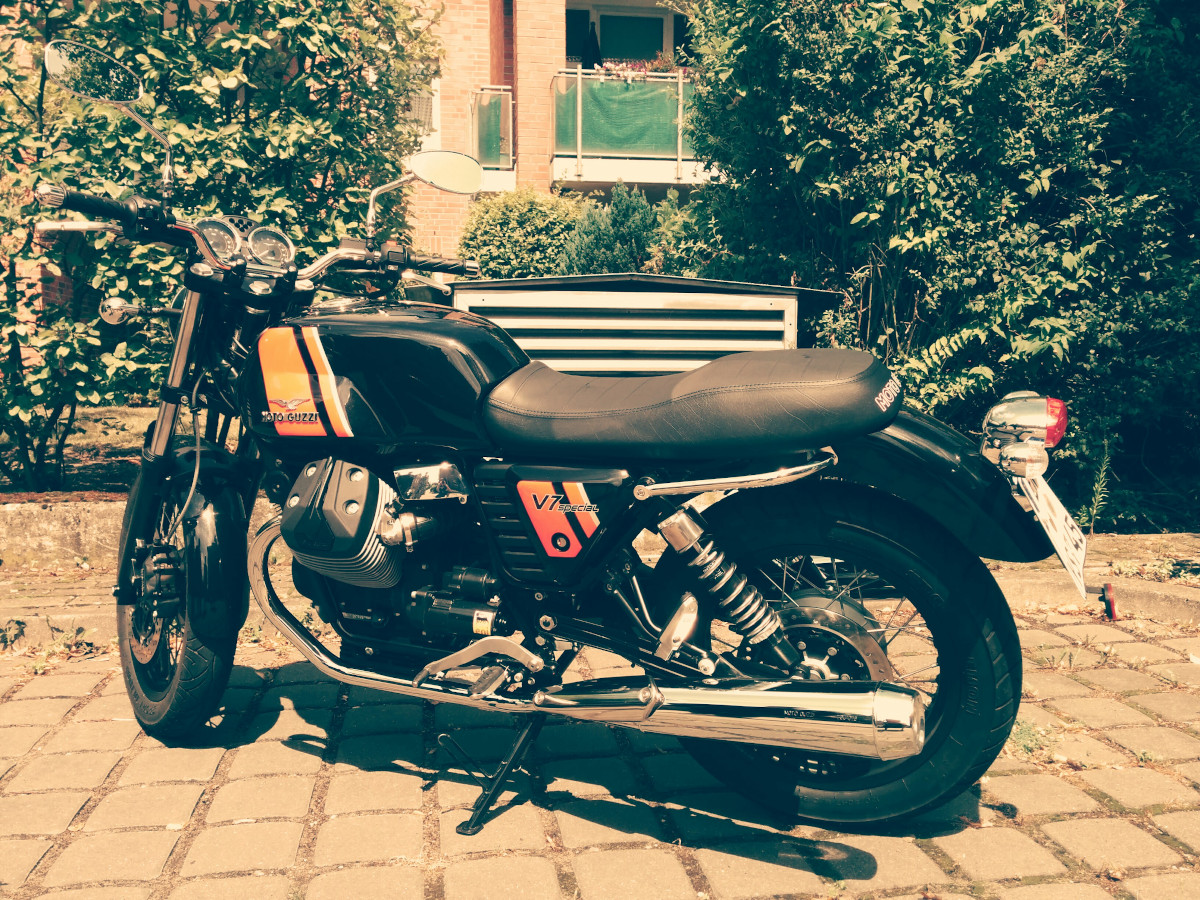 My Moto Guzzi V7 when I first got her in 2014
I've had two crashes on this bike. Going to work on a rainy winter day on a county road in the Lüneburg Heath, a car cut into a roundabout while I was going around, taking my right of way and forcing me to emergency break. Since the bike doesn't have ABS, the road was rain slick and I was leaned over the side, going around the roundabout, I slid sideways and fell off the bike. She got a few dings on the engine housing and chrome pipes and I burned my protective trousers on some hot metal, but otherwise we were fine.
The second crash was more serious. Coming back from our Scotland trip, I ran into the back of a car that dad narrowly managed to avoid. I bruised a few ribs and had some serious contusions, but my protective gear saved me from further harm. Roci fared worse. The handlebar was badly bent, the light housing was completely shot and we later learned that one of the fork legs also had to be replaced. Regardless, we made it home together and I had her fixed.
I also fell over once on a grass field in Switzerland, but I was stationary at the time and it hardly caused any damage, so I don't really count it as an actual accident.
This bike has been with me through thick and thin. Aside from going all over Germany, so far she's been to France, The Netherlands, Luxembourg, Belgium, Spain, Andorra, Italy, Switzerland, Liechtenstein, Austria, England, Scotland, Denmark and Sweden.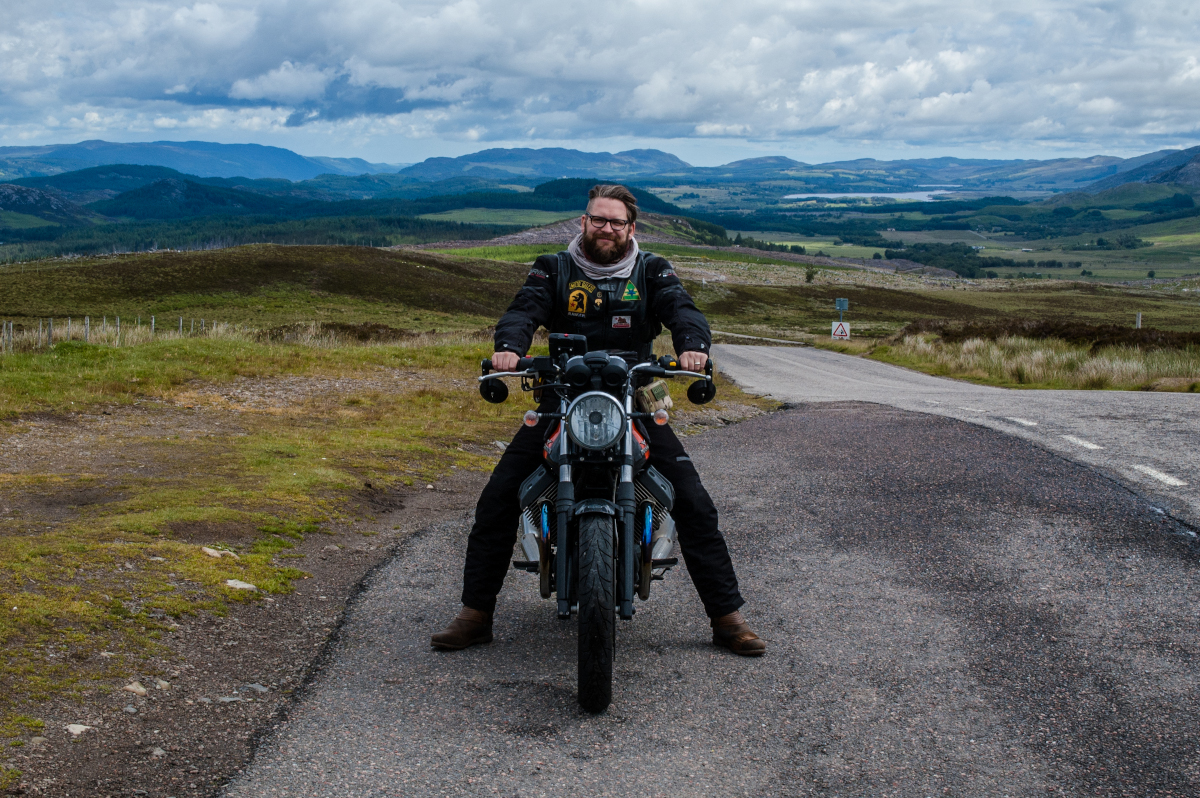 In the Scottish Highlands in 2016
Pretty much nobody rides these bikes as much as I do. Guzzis are usually ridden to the next ice cream parlour on a sunny Saturday afternoon; much like most Harleys. I once met a guy on a V35 built in 1980 that had 12,000 kilometres on the clock. At that time, my bike was just over five years old and way north of 50,000 kilometres. This is why the gearbox craps it in and disintegrates into dust at 70,000 hard-earned kilometres. Most V7s will probably never see that kind of mileage.
The Lost Art of Actually Repairing Things
Repairing the gearbox is going to cost me upwards of 4000 euros. Fixing this bike is what professionals refer to as "not cost-effective". I could get a replacement bike (exactly the same model) with around 10,000 kilometres on the clock for just over 5000 euros. But I don't want another motorbike.
One reason is certainly that I love this bike. This specific one. We spent so much time together and had all of these adventures. We've made it through tough scrapes, crashes and mechanical problems. Icy weather, rain and sweltering heat. I've ridden her up the highest pass in the Alps and along pencil-straight roads in Northern Germany. Along the lakes of Sweden and of Switzerland. Through English fog and endless days of Scottish drizzle. I've had holidays, I've commuted. I've even slept on this bike. I won't give her up for anything.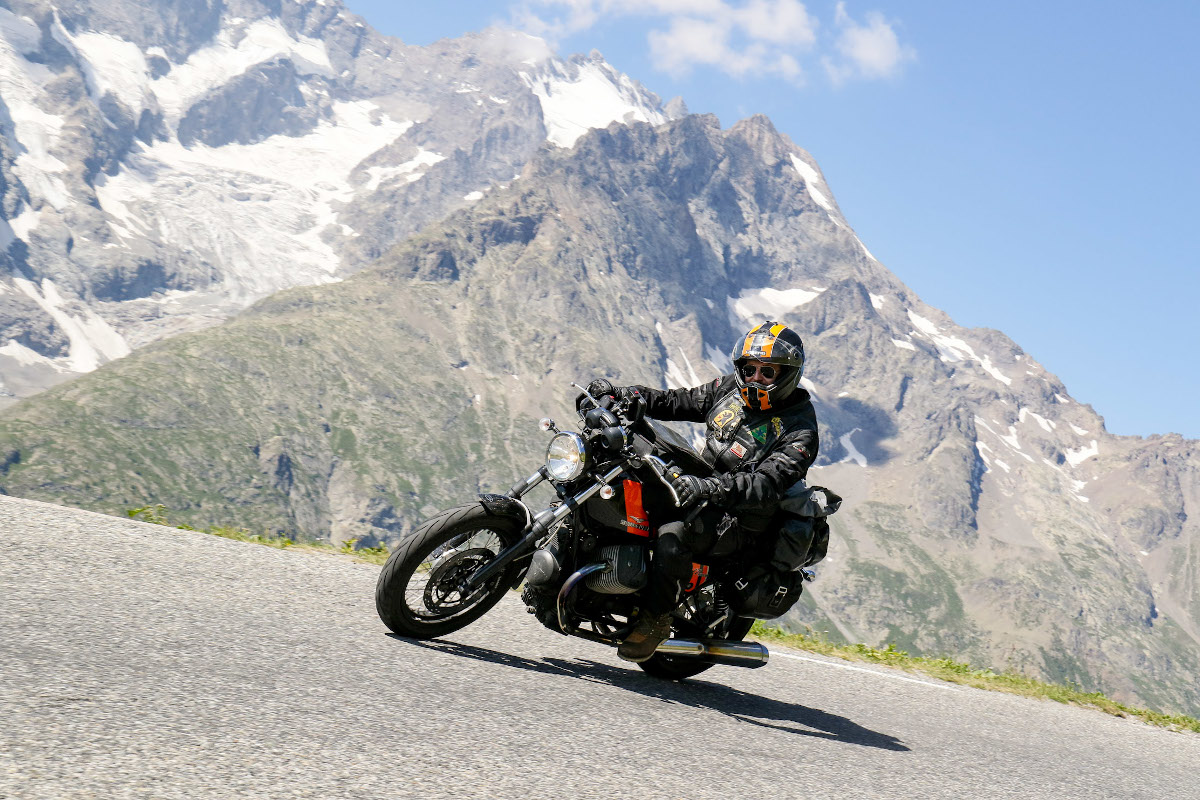 Riding the French Alps last year
The second reason that I want to repair her is probably as emotional. I hate our modern throw-away society. Here I have a perfectly good motorbike – the frame is in perfect condition, the electronics work and the motor and drive-train have been maintained very thoroughly – with one broken component. And everyone keeps telling me to wreck it and buy a new bike. Why not fix it? Because Guzzi's parts are way too expensive? Because its hard to find a repair shop that can actually do it? I won't let that stop me. Economics be damned! I hate that we keep throwing things away that can be fixed. From electronics, to clothes to motorbikes and cars. And I've made it a focus in my life in the last year or so to break this trend, at least for myself. We don't always need the newest, shiny thing just because it is new and shiny. I will use a phone as long as possible and I will get the battery repaired. I will buy a used car and fix it if it breaks down. And by god I will fix this motorbike!
Luckily, I seem to have found the right partner in this endeavour. After years of grief with official Moto Guzzi repair shops – the one in Hanover is shit and both official service centres in Hamburg are also horrible – I am now servicing my bike at the independent Motorrad Service Altona. After first trying to find a used gearbox – sadly everything on the market right now seems to be for the V7 II and V7 III models that have a slightly different engine setup from my bike and thus aren't compatible – the guys at MSA told me it would probably be more cost-effective to get a new bike. And when I said no, I want this one fixed, they didn't bat an eyelid and started to work out how to get all the parts and go about fixing it. This is the kind of repair shop you want. Most of these official Guzzi places are sellers first and foremost. They want to sell you a new bike and then make money off the service. But they don't want to actually fix anything (probably too much work as far as they are concerned).
The question now is this: Can we get the parts in time for the trip next month? Getting Guzzi parts is notoriously slow. My dad (a Honda rider) is always laughing his ass off about these things. A few years ago, my mum's bike broke down in the ass-end of nowhere in Croatia and Honda just Fedexed an essential part there on the fly. Repairing the bike took less than two days all told. I probably would have waited more than a month to get a similar specialised part from Guzzi. If they'd even managed to deliver to such a remote place. Well, at least MSA is going to try.
Heart Attack Scare
In the meantime, we've had another scare as we thought this week that dad had had a heart attack. Since the men on this side of the family apparently have had a history of this, we have to be careful about the genetic factor here, even if we don't have any of the other usual risk factors – dad and me are both pretty fit and don't smoke (aside from a cigar once in a blue moon). But, after a thorough investigation, it seems his issues are not heart-related. Luckily, my wife knows some excellent cardiologists through her work and we were able to get dad checked very quickly and efficiently at Katy's new workplace in Düsseldorf.
Dad still has some issues but it seems way less worrisome than originally thought and it's very likely that he can make the trip. Now we only have to hope that my bike can also make it. Otherwise, I'll have to ride through Norway on mum's Honda and I'm gonna miss Roci terribly that whole week. Wish me luck!