The Truth: Google Buys Fitbit, Ubisoft Income in Free Fall, Protests at BlizzCon
Monday, 4 November 2019
Good evening and welcome to The Truth! This week starts off with big news from Fitbit and Ubisoft; it's late, so let's get right to it.
Chrome has security vulnerabilities patched, ClamAV has a zero-day, a Monero miner trojan is spreading via the RDP vulnerability BlueKeep and there's new malware targeting NAS systems from QNAP – The Register has a roundup of these, and other, security news from the weekend.
Google has bought Fitbit. They spent $2.1 billion. This can't possibly be about the devices. It's about the users; the users and their data. Google wants that delicious data. Om nom nom. Of course, they are already in damage control mode over at Fitbit: "According to a separate press release issued by Fitbit, the company will still take privacy for health and fitness data seriously, noting that Fitbit health and wellness data will not be used for Google ads." Ah ha ha ha ha ha …yeah right. If you don't want Google to also have your health data, it's time to ditch your Fitbit.
Ubisoft is someone else who's probably in full damage control mode right now. Or they should be, seeing as their income is down 94% year over year. Ouch. "Ubisoft is predicting a rather vacant Q3 as well, as it does not have any major releases besides Ghost Recon: Breakpoint in early October, and then things like the Stadia version of Assassin's Creed: Odyssey or free content updates like The Division's Last Castle expansion." Ouch, ouch, ouch! Considering these news, their stock price is surprisingly stable.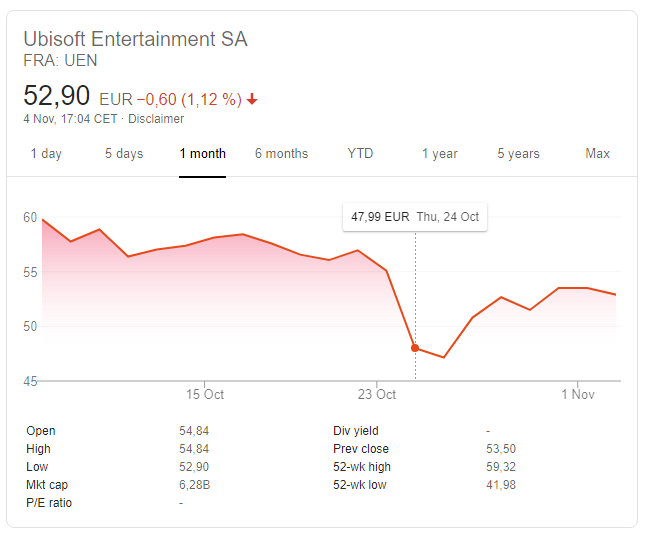 Since even Microsoft ("The GPL is cancer!", "It's Unamerican!!!") is now on chummy terms with Linux, the Open Innovation Network (OIN) is thinking of shifting its defense of open source projects from evil tech giants towards defending against patent trolls. The Register is reporting on the plans, as told by the organisation's CEO: "What we will be announcing in the next several weeks is a programme for the Linux Foundation and OIN of getting together to fund, in conjunction with support from two very significant operating companies, a programme designed to attack poor quality patents and to invalidate them so that they can't use them to be able to try to extract rents on patents that have very significant prior art."
Git 2.24.0 is out. My personal highlight: "We have adopted a Code-of-conduct document."
Politics, propaganda and the trade wars are continuing to heat up. Now, GitLab "is considering a ban on hiring any Russian or Chinese support staff in order to improve security. It will also consider changing the role of any staff member who moves to Russia or China so that they no longer have access to customer data. GitLab currently has no Chinese or Russian staff members." The Register has the lowdown. How these plans are actually supposed to improve security isn't explained in any detail, though. They just seem xenophobic to me. And, of course, this isn't coming out of nowhere: "There was a general assumption that the customer demand was from the US government. VP of engineering Eric Johnson said: 'Please be aware there is an active, time-sensitive contract negotiation linked to this matter.'" Ka-ching! Follow the money, baby.
BlizzCon was overshadowed by protests over the company's pro-China stance towards Hong Kong: "BlizzCon 2019 is well underway, and, while there were many great gaming announcements to be had during Friday afternoon's showcase, the event was marred by protests outside the Anaheim Convention Center. Blizzard offered an apology for its actions surrounding Ng 'blitzchung' Wai Chung in October, but the publisher's latest words have fallen on deaf ears."
PSA: If you eat up all of your data centre's bandwith allowance for your personal torrenting, better have an ace up your sleeve …or some damn good exuses!
Netflix' The Witcher series is looking extremely dope. The trailer even has Geralt in a bath tub!
---
This is an archived issue of my daily newsletter
FOXTROT/ALFA
. You can find more information about it, including how to subscribe via email,
on this page
.