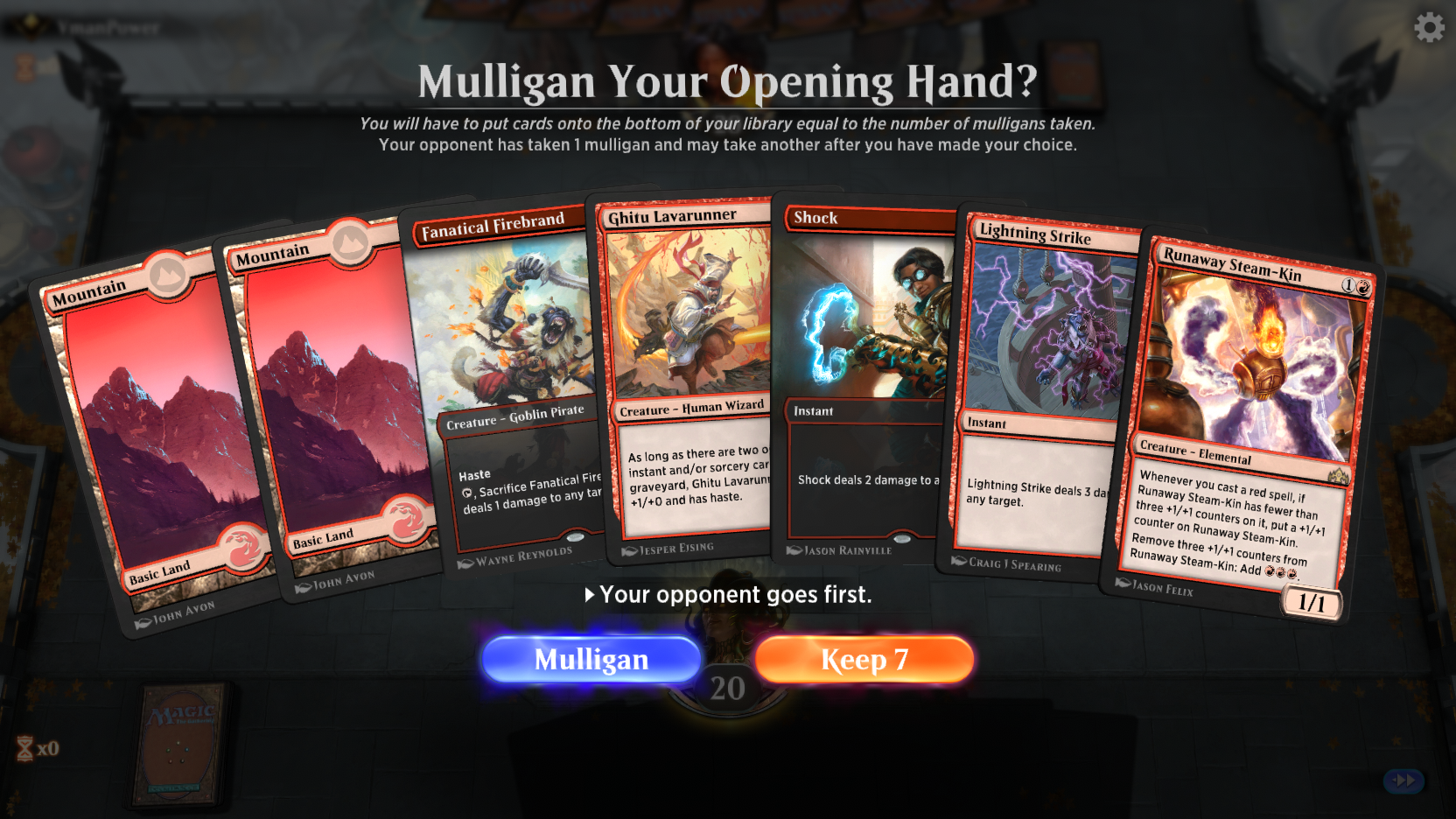 An introduction to the kind of decks I've been playing in Magic The Gathering.
So ever since I've got back into Magic The Gathering, I've been playing Arena pretty much every day. At first, I tried to build my own decks to play on the ladder …haha, well …that didn't last long. I learned very quickly that, in order to play Magic on a competitive level, you have to look up what decks everyone is playing and play one of these. And by "competitive", I mean really any match on Arena. Anything aside from getting a few friends together around a kitchen table.
Strategy and Tactics
There are a million websites where you can look up what decks are en vogue right now – you're looking for stuff that enables you to win more than 50% of your matchups, really. People call this the "meta" (from metagame). This is a phrase I always hated because it's wildly incorrect. Metagame in a literal sense means "the game about the game". But the MTG metagame isn't a game about the game Magic The Gathering …it literally is the game. It's what it's all about. I prefer think about these things a bit more along the lines of Clausewitz. I think of the "meta" as being the strategy of Magic The Gathering. How to play in a certain game, that's tactics. What deck to choose for what kind of format and how to sideboard in a match based on what list your oponent is running, that's strategy.
So seeing that my "just build any deck that looks like it could win and is fun to play with the cards you own" approach from 1998 wasn't working in this brave new online world, I decided to look into MTG strategy and the different kind of decks people were winning with on the MTGA ladder (ie. best-of-one matches). Back in the day, I was usually a mono-green or green-black kind of guy, but I quickly figured out that the mono-green route wasn't very viable in Standard at the moment. Golgari was an option, as I was originally looking into this back when Guilds of Ravnica had just been released. I was, however, pretty limited in my card choices, having just started out with my collection. Mono-black wasn't looking too hot either, but when I ran across many references to a mono-red aggro deck, I decided to give that a try since the card requirements looked reasonably within reach of the cards and wildcards I owned at the time.
I came across a typical mono-red aggro archetype that was often referred to by the name Red Deck Wins and that looked pretty fun to play. I don't think I ever played mono-red back in the day and I had certainly not heard of "Red Deck Wins" before, but I decided to look up a common build that people were playing and give it a shot. I've since then figured out that it suits me very well. I think even way back when I tended to gravitate towards aggro or midrange deck strategies, even though I had no idea what that meant at the time. I realise that many very good players prefer control decks, but they usually are too boring to play for my taste. And I tend to kind of despise combo decks because they feel too gimmicky to me. As if you are breaking the rules to win the game – I'd rather have a fair fight any day of the week.
That's how it came to be that I've been running the following deck pretty much unchanged all thoughout Guilds of Ravnica, Ravnica Allegiance, War of the Spark, and now M20:
---
Red Deck Wins
Standard Deck

Planeswalkers (4)
Creatures (20)
4 Goblin Chainwhirler
4 Ghitu Lavarunner
4 Fanatical Firebrand
4 Viashino Pyromancer
4 Runaway Steam-Kin
Instants (10)
2 Wizard's Lightning
4 Shock
4 Lightning Strike
Sorceries (6)
2 Skewer the Critics
4 Light Up the Stage
Lands (20)
20 Mountain
---
Sideboard (15)
3 Risk Factor , 2 Rekindling Phoenix , 2 Legion Warboss , 4 Lava Coil , 2 Tibalt, Rakish Instigator , 2 Dire Fleet Daredevil
---
This deck is a lot of fun to play and I've been solidly in the gold ranks on Arena with it, even reaching high platinum at the end of an earlier season. But now the time for this deck has passed, I think. Beginning with the release of Core Set 2020, my win percentage with this deck has started to drop sharply. I thought I'd might be able to ride it out until the upcoming Standard rotation, but it seems like that wasn't meant to be.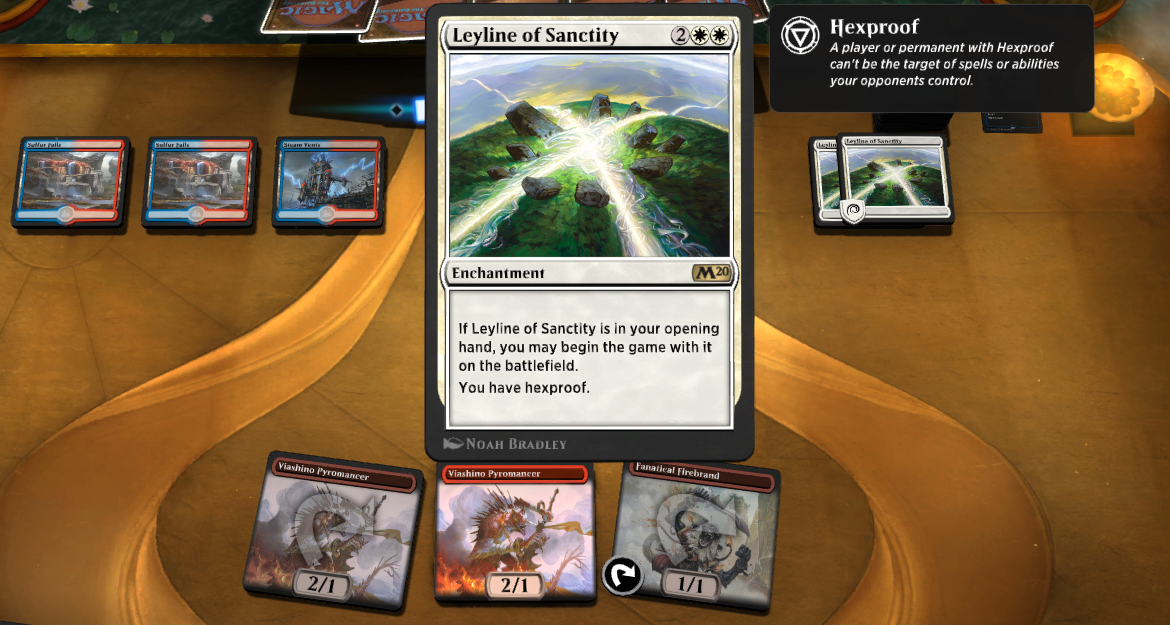 Leyline of Sanctity throws a major spanner in the works of my game plan.
Since I really enjoyed playing this deck, I tried to salvage it by coming up with a Version 2.0 that could carry me the last few weeks through M20 until rotation is upon us. After looking around a bit and experimenting here and there, I came across the deck that Autumn Burchett registered for the MPL Top 4 Playoffs recently. I decided to try this out as the next evolution of my RDW list.
---
Red Deck Wins 2.0
Standard Deck

Planeswalkers (2)
Creatures (20)
4 Fanatical Firebrand
4 Ghitu Lavarunner
4 Runaway Steam-Kin
4 Ember Hauler
4 Goblin Chainwhirler
Instants (8)
Sorceries (6)
4 Light Up the Stage
2 Skewer the Critics
Enchantments (4)
Lands (20)
20 Mountain
---
Sideboard (15)
3 Fry , 4 Lava Coil , 2 Chandra, Acolyte of Flame , 4 Chandra's Spitfire , 2 Tibalt, Rakish Instigator
---
As you can see, the new version of the deck switches 4 copies of Chandra, Fire Artisan for 2 copies Chandra, Acolyte of Flame. It also has two less burn spells and fills up these 4 card slots with a playset of Experimental Frenzy. Experimental Frenzy certainly is a very powerful enchantment:
You may look at the top card of your library any time.
You may play the top card of your library.
You can't play cards from your hand.

: Destroy Experimental Frenzy.
When this card goes off properly, it can win you the game. But sometimes you get stuck with not enough mana for the cards you have on top of your library (which doesn't happen that often though, with all the spells in this deck being very much on the cheap side), or – worse – two mountains in quick succession. Since you can only play one land per turn, that means the frenzy is over until your next turn. Sadly, I tend to whiff like this more than I'd like.
Red Deck Loses?
In theory, this deck should fare better against many of the lists that have been popular on the ladder recently. Somehow, it isn't working for me, though. My win percentage with this new version is not necessatily better than with the old one – depending somewhat on the day in question and what matchups I'm facing. Chandra, Acolyte of Flame especially seems rather weak to me compared with the other Chandra she's replacing. I don't know if I've just gotten too used to the way the old version of this deck plays or if I'm simply not good enough to figure out how to play the new one …all I know is that my RDW days are probably numbered for now.
As much as I love the way these decks play, maybe it's time to employ other strategies right now. I'm currently looking at Mono-Blue Tempo or Orzhov Vampires as alternatives. I'll let you know what works best for me as soon as I figure it out.
---