The Newsletter Formerly Known as The Truth: Facebook Data, Christmas Strikes at Amazon, Greta Kicks off Deutsche Bahn Shitstorm
Welcome to FOXTROT/ALFA for Monday, 16 December 2019. Yes, that's right: I have renamed The Truth to FOXTROT/ALFA. I've gotten some emails from people who were confused by the old name and I've decided to change it. Why FOXTROT/ALFA? Because "Foxtrot Alfa Bravo" was too long and "fab.industries Newsletter" too boring. Besides, it sounds cool and I like it. In other housekeeping news, the newsletter is now archived on its own page on my website. If you are getting this by mail (as you should be doing, to be honest) nothing changes – except the name, of course. Anyway, let's do this tech news thing.
Facebook payroll data stolen: Facebook has lost a copy of the personal details of 29,000 of its employees after someone broke into a Facebook employee's car and stole hard drives containing payroll information. Naturally, such sensitive information was not protected with encryption.
"Out of an abundance of caution, we have notified the current and former employees whose information we believe was stored on the equipment – people who were on our US payroll in 2018 – and are offering them free identity theft and credit monitoring services. This theft impacts current and former Facebook employees only and no Facebook user data was involved."
Abundance of caution my ass. How about encrypting that data, Facebook?
Google pitches its vision for Flutter: Are you a software developer? Do you love how well write once, run everywhere works for Java? Because you're in luck! Google says its Flutter programming toolkit wants to do more of that! Via Venturebeat:
Developers should be able to use Flutter on all sorts of devices, including phones, wearables, tablets, desktops, laptops, televisions, and smart displays. Google calls this ambient computing – the idea that your services and software are available wherever you need them. Google wants Flutter to be "a portable toolkit for building beautiful experiences wherever you might want to paint pixels on the screen."
Maybe it'll work this time? Maybe…?
Apple Podcasts come to Alexa: Apple has launched its podcast library – which used to be integrated in iTunes and has been renamed to Apple Podcasts for a while now – on Amazon Alexa devices. According to Amazon it's only available in the US at the moment, though. They say the whole thing syncs your progress in an episode:
Link your account in the Alexa app using your Apple ID, and you can seamlessly pick up where you left off listening on the Apple Podcasts App or your Alexa device. Pause the subscribed episode you're listening to in the Apple Podcasts app on your commute, and continue listening with your Alexa device at home by asking Alexa to resume the podcast.
If you're in the US, why not try it out with an episode of Radio Nowhere and tell me if it works?
Christmas strikes at Amazon Germany: The German subsidiary of Amazon is facing strikes over Christmas by workers unionised with Verdi, Germany's second biggest trade union. Amazon has been under ongoing criticism in Germany for sub-standard working conditions and for supressing employees' councils, which are standard for larger and medium-sized companies. Reuters reports that the union wants Amazon to recognise collective bargaining and raise bonuses for staff effected by stress and overtime due to the Christmas shopping season. A vast majority of Amazon workes are not union members, however, and as such the impact of the strike action will most likely be limited. In the past, Amazon has been accused of hiring imigrant workers in Germany because they are much less likely to unionise or to make use of employment laws that limit excessive working hours and sub-standard pay.
Magic Legends: At the Game Awards, Cryptic Studios and Wizards of the Coast have announced Magic Legends, an MMORPG set in the Magic The Gathering universe. They haven't said when it will launch yet, but one can apparently sign up for a beta invite. Cryptic are mostly known form making Star Trek Online, which isn't massive but has somewhat of a cult audience.
Elite Dangerous is five: Elite Dangerous turned five today. Which is kind of amazing, seeing as it was kickstarted a month after Star Citizen, which itself obviously hasn't been released. While they've been pissing around with beta builds, we've already been playing Elite for half a decade!
Greta Thunberg vs. Deutsche Bahn: Deutsche Bahn, Germany's de facto national rail carrier, is facing a PR debacle on Twitter because Greta Thunberg tweeted that she had to sit on the floor of a carriage due to a train being cancelled and her subsequent connection thus being massively over capacity.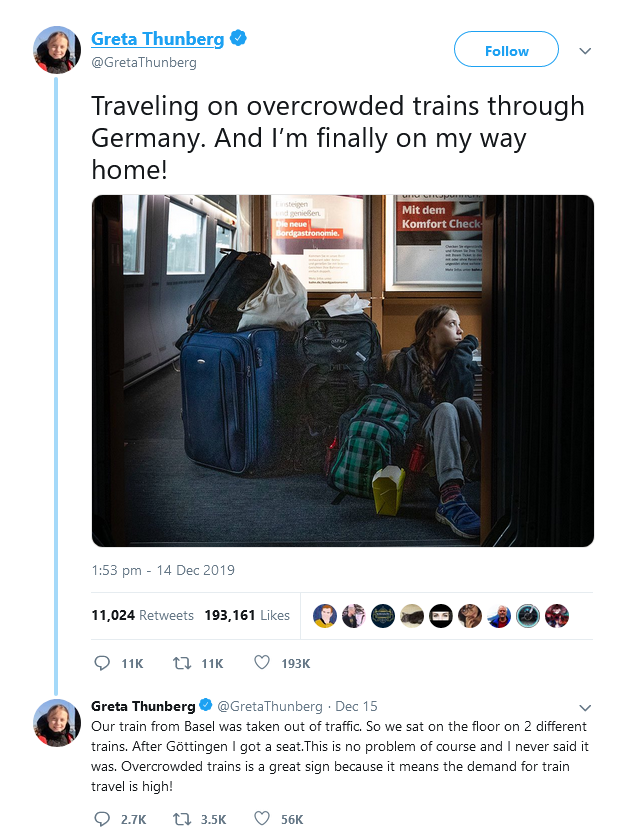 Now, people who know me know that I'm far from a fan of Deutsche Bahn – especially after more than a year of a daily ICE commute between Hamburg and Hanover. So I'm the last person to defend Deutsche Bahn and their shitty service. And I also know very well how Thunberg must have felt, having been in the exact same situation more times than I can count. But… I think this was a genius PR move by whoever handles that for her. She got a lot of attention for this.
There was only this one topic on all of German Twitter all Sunday and most of today. And I find it extremely unlikely that in a German ICE nobody recognised the new Time Person of the Year and offered her a seat. Make no mistake, Thunberg is a veritable celebrity in Germany right now. There are reports about her on TV and in the press constantly. Everyone knows what she looks like. And people would have offered her a seat, I am sure of that. If only to get a Greta selfie and brag to their friends about it. I think she was offered a seat and turned it down so she could have this Twitter moment. And the strategy worked very well.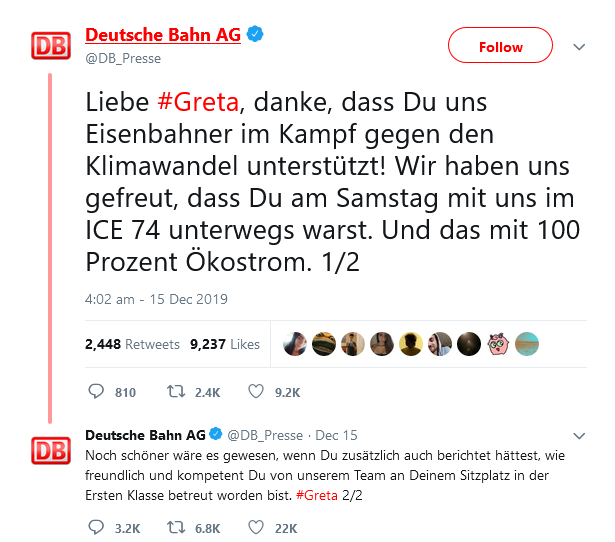 I'm not the only one saying she was offered a seat, by the way. Deutsche Bahn tweeted that she was invited into first class on the train and accepted, it looks like. I do like Deutsche Bahn getting whipped over this in principle, but it is kind of annoying that it is because of what I feel is a somewhat staged PR stunt.
---
This is an archived issue of my daily newsletter
FOXTROT/ALFA
. You can find more information about it, including how to subscribe via email,
on this page
.