The Truth: Another "Bulletproof" Hoster Goes Down, Microsoft Android Phone, Police Tesla Runs Out of Juice
Thursday, 3 October 2019
Today is a bit light on relevant tech news, not sure why that is. After all, it's only a holiday in Germany and the rest of the world shouldn't be affected by people not working. Anyway, I nonetheless found a handful of interesting stories for you. As always, I'm reading all the nonsense so you don't have to.
Police in the Netherlands have taken a "bulletproof" hosting provider in Amsterdam offline, in the process of which they also took down two large Mirai botnets. Mirai is a strain of denial of service malware that originally was written as part of a script kiddie war over Minecraft servers and has become one of the biggest DDoS threats on the internet. It's currently not known if this raid was connected to a raid by German anti-terrorism unit GSG 9 on a similar hosting operation at a former NATO bunker in Traben-Trarbach last week. The "bulletproof" hoster in Germany was also operated by a Dutch company.
Microsoft is producing an Android phone, which is meant to hit the market at Christmas of 2020. It's foldable, but unlike the broken device that Samsung can't make work, it's just two screens with a hinge. Microsoft is "partnering with Google to bring the best of Android." As The Register points out, this is quite the move for Microsoft who was fighting tooth and nail against Android and Linux until very recently: "This comes after Microsoft extracted billions of dollars in patent royalty payments out of Android makers, until recently, and is about to finally bring the axe down on its family of mobile Windows operating systems. And this is Android powered by Linux, the open-source kernel that Redmond now apparently loves after earlier declaring it a cancer. Quite a turnaround." At least they're giving up on their deluded idea to make Windows work on phones.
Meanwhile, Huawei is continuing to chafe under Trump's trade war. Their newest flagship phone, the Mate 30, has to make do without Google services and apps on its Android operating system. There was a workaround, CNet somewhat sloppily labels it a "backdoor", to install these apps on the phone but that seems to have come to an end. "Security researcher John Wu outlined the process that let Huawei Mate 30 owners manually download and install major apps Google Maps and Gmail. This method, which used an app called LZPlay, apparently no longer works, and Bloomberg reported that only Google is able to make that kind of change." Well, if Bloomberg say it, it must be true, I guess…
It seems the trade war is also affecting the purchasing decisions of gamers, with sales of powerful gaming PCs being on the rise. According to market analysts from IDC, "shipments of gaming rigs staged something of a comeback in the second quarter of 2019 as retailers sought to avoid potential trade tariffs on machines bought in China and imported to the US."
I hope you're not using Bitbucket for development. If you are, you probably haven't gotten much work done recently. The Register is reporting on a hefty outage: "Git and Mercurial, separate software version control applications supported by Bitbucket, began misbehaving on around 2241 UTC on Monday, September 30, according to the company's status page. Within about two hours, early Tuesday, October 1, the incident was resolved, only to see more problems accessing git via HTTPS about ten hours later. The fix arrived in about an hour. And then both git and Mercurial became inaccessible via HTTPS for another three hours, with service restored at 1912 UTC. By 0928 UTC, Wednesday, October 2, git and Mercurial access over HTTPS has failed again. About two hours later, the problem is resolved. Except it's not. Come 16:17 UTC on Wednesday, the Bitbucket reports still another service disruption that lasted another three-plus hours." Developers aren't happy and are currently busy ripping the Australian service provider a new one on social media platforms.
A Silicon Valley police officer nearly lost a suspect because his Tesla was running out of juice. The Fremont PD officer radioed his colleagues to report "I am down to six miles of battery on the Tesla, so I may lose it here in a sec. If someone else is able, can they maneuver into the No. 1 spot?" As the venerable New York Times reports, "it wasn't the car's fault." No shit. Since cars can't think (at least not yet, thankfully) one would have to blame whoever got the idea of buying Teslas as squad cars. But hey, apparently it's the fastest car they've got and it handles very well in pursuits. One can only imagine how Harry Bosch feels about this.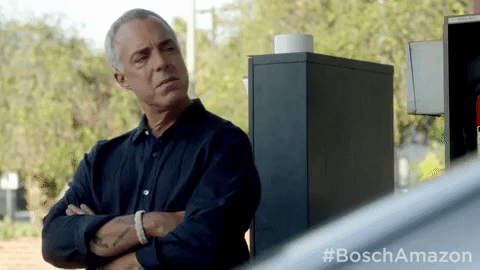 ---
Image credit: Amazon Prime Video
---
This is an archived issue of my daily newsletter
FOXTROT/ALFA
. You can find more information about it, including how to subscribe via email,
on this page
.