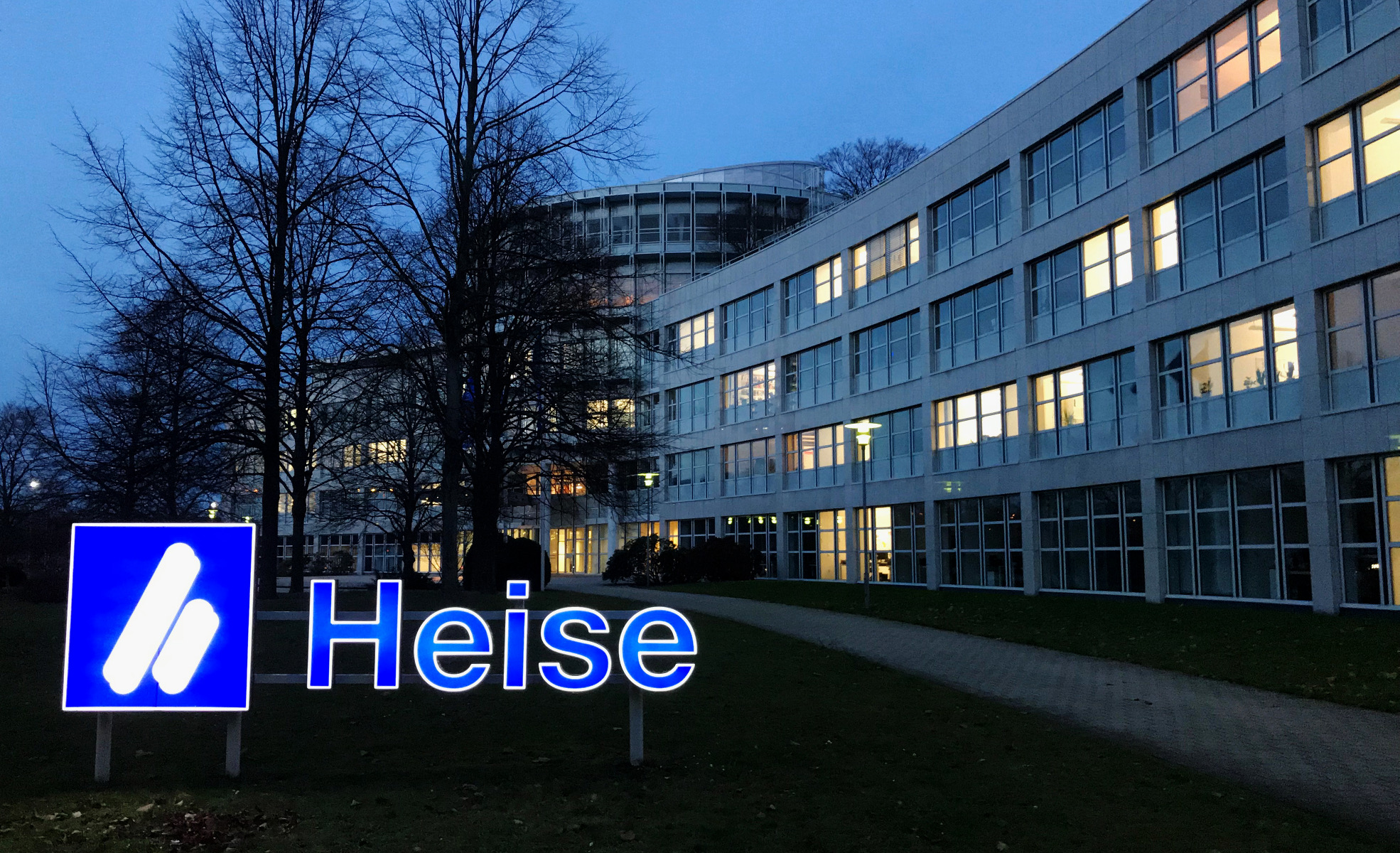 After almost seven years, I'm leaving the publisher Heise in Hanover.
Today is my last day at Heise. I've worked for this company for almost seven years, more than five of those at the corporate headquarters in Hanover. This story begins at the start of 2012. At the time, I was studying in Bonn and doing tech support on the side for NetCologne – which isn't a perfume company, but rather a local ISP. I saw an advertising for a job as an editor on Twitter. The English-speaking subsidiary of the well known German tech publisher Heise was looking for someone well versed in Linux and Open Source topics to write stories for London-based news site called The H. Doing Linux Outlaws every week as I was, I thought I was exactly what they were looking for. I took a risk and applied for the position. I worked for them for three months from Bonn – connected to the office via Skype pretty much all of the time – and then moved to Wimbledon in the summer. My big adventure had begun.
London Adventure
My wife, or rather girlfriend at the time, stayed in Bonn to complete her PhD thesis. This meant a long distance relationship for a full year. I worked a lot back then. And in my free time, I produced podcasts – basically working some more. I think I was launching myself into it like that back then so as not to miss Katy too badly. The rest of the time I spent in pubs and on long walks through wonderful and mysterious London. Every two or three weeks, I flew back home: I went into work with my bag packed on Friday morning and hit the tube to Heathrow as soon as work was done. I still remember vividly what an amazing feeling it was every time I saw Katy standing outside the security gates at Cologne-Bonn Airport.
After a year, Katy completed her dissertation and flew over to London to stay at my small flat in Wimbledon for a few months. We were looking for a bigger flat and Katy was in talks for a postdoc position at Cambridge. Disaster chose this moment to hit like an onrushing freight train. Some execs had flown over from Hanover: The H would be shut down within the months. We'd work for two more weeks, after that, Heise was going to end their experiment with publishing in English. I went home and told Katy. I cried bitterly that evening. I am not exaggerating when I say that this was one of the worst days of my life.
Reboot in Hanover
My dream of a life in London, maybe of becoming a UK citizen later on, had crashed and burned. I tried to pick myself up as best as I could from the smouldering ruins. At least Heise was being understanding. They told me they had open job postings at c't in Hanover and offered to fly me over for talks. They had absolutely no obligations to do this, and to this day I have a lot of respect for the humane way in which the company handled my situation back then. Katy and me had no desire whatsoever to move to Hanover, but in the situation we found ourselves in, we had little choice. I had been offered a well paid, permanent position as an editor for c't, Germany's biggest and most renowned IT publication (c't is basically to nerds what Der Spiegel is to the rest of Germany). Katy's psoition in Cambridge would have been paid worse and it would've been a limited-time contract. There really was no choice. We moved back to Germany. And quite a move it was. It was rather hard to find a place to live in Hanover. We had to book all viewing appointments in flats in advance and only had a day and a half to look at places. Luckily, Katy and me are really good at this kind of stuff and we found a very nice flat in Isernhagen, just outside Hanover.
At c't, I quickly adjusted to writing in German again, taking over a lot of writing duties for heise online's infosec channel heise Security. I also learned to write articles for a print magazine. My first real story in the magazine immediately became the cover story: A colleague and me explained the technical aspects of Bitcoin. Back in the day, I was convinced we were way to late with something like that. In hindsight, it turned out to be a trailblazing story for a German print magazine in 2013. At some point in my first year in Hanover, a colleague asked me: "Hey, don't you do podcasts?" He was a podcast fan himself and had tried for years to get a show started at Heise. Very soon after this, we got together with three other colleagues and got c't uplink off the ground. The show's name was my idea, by the way. Nobody liked it at first, but then they didn't have a better idea either and so it kinda stuck. Ever since, we managed to get a show out there every week – more than 250 episodes in total. With just the five of us and a very hard working video producer, that is quite and achievement, I feel. The podcast is still one of the things from my time at Heise that makes me most proud.
It shouldn't stay my last achievement at the company. While I didn't write the column with the most comments on heise online, all my columns together probably created more reader interaction than anybody else's. I broke the record for the most read story on the page several times. Again and again, I stayed late at the office to write up a security vulnerability that disappeared out of nowhere and had to be covered by someone – there and then. I've written more news stories for heise online than I can count. I've reorganised the news workflow for the security news desk by myself. On my own initiative, in 2017, after twenty years of operation, heise online started using professional stock photos for the first time. I've done TV interviews for all the major national stations (including several prime time news appearances) and I was a live studio guest in several local TV shows. I've been interviewed on pretty much all the radio stations at all possible hours of the day. I've talked in front of city officials of the city of Hanover, criminal police investigators, journalist colleagues and C-level executives… and all while also producing regular stories for the print magazine. In other words: I have experienced pretty much anything you can experience when working for c't and heise online. One of my news stories even ended up in the satire magazine Titanic.
Meanwhile my wife was pretty unhappy in Hannover (we'd married in 2014 in Isernhagen). As a very specialised scientist, she just couldn't find a job in the place. When she got a job offer at the university clinic UKE in Hamburg, I just knew she had to go for it. We'd figure out the rest later. In the summer of 2014, she moved into a small flat in Hamburg – the long distance relationship was upon us once again. In the beginning, we made it work easily. I often drove through the Lüneburg Heath to Hamburg after work and we spent many a memorable weekend in the beautiful northern German port city. But as we reached year three of this situation, we both knew something had to give eventually. At the start of 2017 I was offered a position where I would work exclusively for heise online. I took the job and from the summer onwards threw myself into new challenges at Heise. From now on, I was organising and planning the online aspect of our open source, Windows and infosec coverage. More flexibility afforded by exclusively working online allowed me to finally join my wife in Hamburg.
Move to Hamburg
In August, we moved together into a beautiful flat in Alsterdorf. Since then, I've been commuting regularly to Hanover. In the summer I would frequently drive the 150 kilometres on my motorbike. But when it got cold or stress mounted to dangerous levels, I would take the train – I didn't wanna freeze to death or kill myself falling asleep on the bike when I was wiped out from a long day at the office. Going by train meant four to five hours of commute every day. Until this day I managed to deal with the commuting quite well. You develop your own routine. That's something you could not say about a lot of my colleagues, though. Even though in the years before, some people would almost never visit me in my office to talk person-to-person, they suddenly complained when I wasn't there. On the other hand, nobody seemed to notice that I was producing a lot more content in peace and quiet at home. At the same time, a worry that I'd been carrying around with me for years now got more and more pressing: I was afraid I was stagnating. I started to come to the realisation, that staying at Heise forever would not be good for me. I've seen first hand at the office what it does to you when you stay at one workplace for literally thirty years – that was not something I wanted to happen to me. I was strengthened in my conviction when talking to an ex-Heise colleague on the phone, he told me about his experiences of leaving c't and striking out on his own. "If you need to leave, leave. It isn't as bad out here as people tend to say."
Talking about this to my wife, Katy reminded me that we sometimes have to take risks to change things for the better. She reminded me of my balls, so to speak. Humans are animals of habit. We generally only change for the better if we force ourselves to adapt to new situations – this is often scary and maybe it only works precisely because it is scary. The best things in my life happened when I had the balls to go for it, to risk something big time. My exchange year in Australia, 16 years together with Katy and this job at The H and later c't and heise online – these defining moments of my life – only happened because I dared. This is why I am both scared of, and looking forward to, what is coming next.
Today, I'm leaving my office at Heise for good, but I'm not cutting ties with my colleagues there. I will continue to happily write for Heise, as long as they will have my writing. I have learned so much in my time there and I am very grateful for this. But I am also very much looking forward to try out many new things. Now is the right moment in my life to try. To say it with my favourite line from my favourite poem: "To strive, to seek, to find, and not to yield."